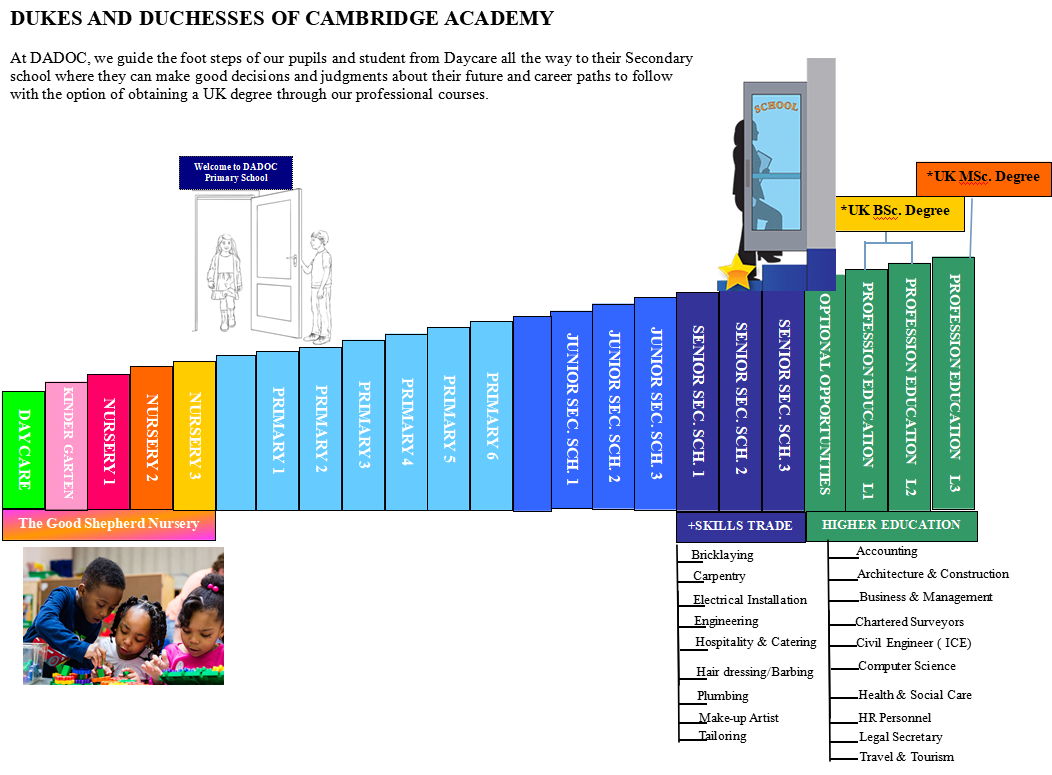 The Dukes and Duchesses of Cambridge Academy is a comprehensive skills based academy.

The academy was developed by an aspirant and ambition couples who wanted to inject a

modern British Education system into the communities it operates.
The Gap:
YOUR CHILDREN DERSERVR THE BEST EDUCTION
In Nigeria, parents strive to send their children to acquire education and sometime have to

borrow for this purpose.

After secondary school, some very intelligent students are deprived from attending the

University and studying a subject by some god-father requiring payment of some kind.
Furthermore, for those who eventually attended and completed their University studies,

finding a job thereafter is regrettably a worse experience for many. Most students after their

University studies go back to start learning skills works such as sewing, hairdresser, make-up artist etc.
Delivering Change and Improving the Quality of Education
Our academy is aimed at closing the gaps identified above by delivering a comprehensive

education comprises of both academic and vocational education.
Our students will be taught the basic academic subjects (primary and secondary education)
and vocational skills (vocational training), developing entrepreneurial skills to help

those who graduate from the academy and want to start their own business to be well

trained in their chosen vocational skills.
In addition, for those academia who which to further their studies to the University to

pursue this knowing that no matter what the case may be after their graduation still

have their vocational skills to back upon.
We also offer other routes student can follow to obtain a UK degree and a master degree

with the opportunity of visiting the UK for their graduation ceremonies.

For more information, Please contact

Furthermore, we also have professional and management courses for those who are

working and need to develop their professional careers. Browse through our website

for more information.