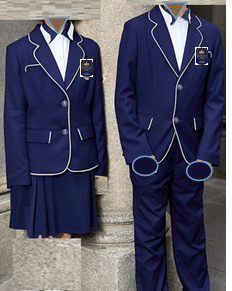 THE UNIFORM IS:
Branded items: (purchased from the academy's reception upon completion of registration)
·

V-neck

Suit

-

navy

blue

·

Tie -

navy

blue and

gold

stripe

·

PE t-shirt -

navy

blue

·

Drawstring PE bag -

navy

blue

·

Book bag -

navy

blue
Other items:
·

Trousers, skirt or shorts -

navy blue

·

Shirt with collar - white

·

Tracksuit bottoms or shorts for PE –

navy

blue

·

Shoes or boots - black (not trainers)

·

Socks - black

, white

or

blue

(white for girls)

·

Tights -

sink colour
Additional, optional items:
Winter coat - plain blue or black

Summer dress - blue check
Uniform Policy
Students at DUKES AND DUCHESSES OF CAMBRIDGE ACADEMY are expected to wear the uniform in

its entirety to the Academy on all occasions. The Academy uniform is an important part of our collective

identity and sense of community. It is important that students present themselves as ambassadors of the

Academy at all times including when they are in public places or travelling to and from the Academy.
The Board of Governors at the Academy expects all students to adhere to the Uniform Policy.
All students are expected to wear the uniform detailed below. This uniform will be checked on a daily basis at

the gate, by staff. Parents will be informed if the uniform code is breached.
The uniform code is as below:
AIMS:
To encourage self-respect and pride in the Academy

To promote a professional approach to learning

To help promote the academic ethos of the school as a well ordered disciplined environment in which to learn

To ensure that students are well presented and smart

This will be achieved by

Parent and carers all fully aware of the uniform requirements.

Documentation for all new students to clearly state how the uniform can be obtained.
NOTE: Vocational and professional course student are not required to wear the academy uniform. They can wear casual smart wear but must comply with all the academy polices.